From 1 July onwards, the self-service library services are available at the following libraries in Lahti: Ahtiala, Kärpänen, Mukkula, Liipola and Jalkaranta.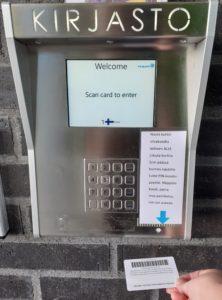 You will be permitted to use the self-service libraries in Lahti when you obtain a LASTU library card. This permission is personal to the card holder. When receiving the library card, you agree to follow the self-service library rules. 
As a self-service customer you need a library card and a PIN code. You can get a library card at any public library in Lahti. Take a photo ID with you. 
Those who are under 15 years old will only be allowed to start using a self-service library with the consent of a guarantor/guardian who is registered in the library system. The consent is recorded in the system while the guarantor is present. The guarantors must prove their identity.
During self-service hours you can borrow and return material by using the library's self-check-out and return stations.  You can use the library's public computers, read newspapers, magazines and books and use the library as a space for working. The library has a wireless Internet network, which allows you to use your own devices. The multifunctional device in the library is not available for scanning, copying and printing during self-service hours. 
Usually self-service hours in Lahti libraries are every day 6:00-22:00. But because of coronavirus restrictions, the libraries cannot be used on weekends until further notice. The self-service libraries can only be used on weekdays, Monday to Friday.